Pianisten Alf Häggkvist och jag arbetade under ett antal år med projektet Pictures, dreams. En skivinspelning planerades med flera musiker 2017, men i sept det året gick vår vän och fantastiske medmusiker bort. Tack Alf för ett givande och roligt samarbete!
Runt korta texter väver vi musik. Tonsättningarna är utgångspunkt för musikaliska upptäcktsfärder. I stunden hittar
vi nya ingångar till orden och rör oss mellan subtila klanger och starka utspel. I detta "öppna" projekt tillkommer
nya bilder efterhand, och vi bjuder gärna in gästmusiker/artister till möten.
De som redan har gästat oss vid olika konserter är: Olof Wendel (marimba), Helena Lambert (dans),
Mats Karlsson (oud, slagverk), Klas Toresson (saxofon), Maria Grikeviciute (piano), Tobias Ulvfebrand (dans/mim).
Texter: Walt Whitman, Emily Dickinson, Elena Guro och Madeleine Östlund.
Texterna finns att läsa nedanför spelaren.
Demoinspelningar 2009-2016:
Sång, tonsättningar – Madeleine Östlund, Piano – Alf Häggkvist, Marimba, klockspel – Olof Wendel
Texter M. Östlund där inget annat anges
JUST BEFORE DAWN
Light is the rain
when it falls before dawn
on empty streets
AUGUSTWIND IN MAPLECROWNS
Treetops full of songs
bringing my daydreams to sway
in summer harmony
ANSWER
One bird gives a thrill
in the listening night —
yes, the sorrow will fade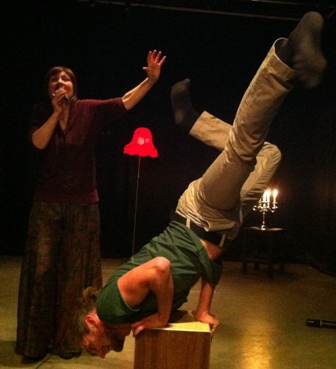 med Tobias Ulvfebrand på Sensus (4 februari 2013)
THE WORLD BELOW THE BRINE
(Text: Walt Whitman)
The world below the brine
forests at the bottom of the sea
the branches and leaves
sea-lettuce, vast lichens
strange flowers and seeds
the thick tangle, openings
and pink turf,
different colours, pale gray and green
purple white and gold
the play of light trough the water
MY RIVER RUNS TO THEE
(Text Emily Dickinson)
My river runs to thee
blue sea, wilt welcome me?
my river waits reply
oh sea, look graciously
I´ll fetch thee brooks
from spotted nooks
say see
take me
I TOUCH LIFE
(Text Elena Guro)
I touch life with warm words,
because how else could
one touch
something wounded?
SLEEPY RHYTMHS
(Text Elena Guro)
In pine boughs – everywhere –
thousands of sleepy
rhythms drowse
THE FIRST DAY OF SPRING
The first day of spring
I feel the city´s breathing
as if the hardships are over
READY TO FLY
Ready to fly
the sparrow dares to try now
and opens it´s wings
A TRAIN GOES BY
A train goes by
dcho dong dcho dong
rushing, rattling
moving forward
over hills and down the valley
rushing, steamin'
driving onward
through the forest, over bridges
Past the fields, ever green
the fields in silent peace
The train is rolling on
the train is rocking on
it´s passing streets and houses
rushing forward on it´s way
the throbbing on the rail is
sounding in the distance now
it´s coming closer as it´s driving
forward on it´s way
Past the fields, ever green
the fields in silent peace
OCEANIC MIND
See the long blue horizon
you can stretch a thought
all along that line
azure blue the sky
silvergreen the brine
and a dwindling ship
in the vibrant light
oh, your mind is as wide as the sea!
I LOAFE AND INVITE MY SOUL
(Text: Walt Whitman)
I loafe and invite my soul
I lean and loafe at my ease observing a spear of summer
grass
TIME IS A RIVER
The long, hot day
is slowly ticking away
each thing moves
through it´s own rhythm
time is a river
ending in your heart