New Album, Wondrous Roads! 
Wondrous and grand. Diverse, elusive and painfully throbbing. With unity and fellowship in it´s deeper flows. Some words for my experience of our world and those feelings followed me when I wrote the songs for this CD. I searched long to find  the musicians that would create the musical costume I was looking for: strong melodic- harmonic anchor with great genrefreedom. It´s an exciting adventure to put together a group of musicians! I´m very happy that these colourful musicians, all soundmasters on their instruments,  wanted to follow me on those "roads": Torbjörn Ömalm-guitar, Lisa Grotherus- bassclarinet, Patric Thorman – electric bass, Per Tjernberg – percussion, Lorenzo Paesani and Lars Bröndum – live electronics.
Jazz, world, folk and avantgardism in a cool mix!
reviews below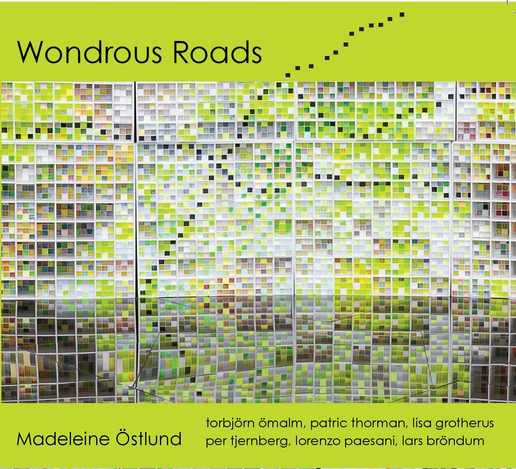 Listen to a few songs from the CD: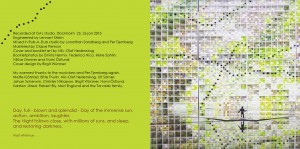 REVIEWS:
Innovative rhythms and sounds describe, with help of live electronics, bassclarinet, percussion and guitar, the wondrous world she is experiencing. Her work is very artistic and interesting.      M. Goto  Jazzlife Magazine aug-16
SHE MOVES IN A MUSICAL BORDERLAND  Jazz/Artmusic
Wondrous Roads is singer, composer and lyricwriter Madeleine Östlunds latest CD. It is a different disc where she runs a new path. It´s not pure jazz but something that is there in the partly unexplored musical borderline, the borderline with white spots on the map and M. Ö is trying to erase at least one of them. Musicians on the disc are the italian pianist Lorenzo Paesani, guitarist Torbjörn Ömalm, bassclarinetist Lisa Grotherus, bassplayer Patric Thorman, percussionist Per Tjernberg and Lars Bröndum on live- electronics. M. Ö extends the concept of jazz and fills up with mainly world and artmusic. Everything is mixed together but far from clutter. It is sparse and unadorned. Pure and simple, but still complex. Lyrics and music merge and M. Ö uses her voice as an instrument. It´s actually not difficult music, just very different and yet not. There are elements which among others already Beatles used and it´s possible to find references to many soloartists and groups back in time. M. Ö has just gone a little further down the road and then we also hear bossa and folk element. Lisa Grotherus bassclarinet and Per Tjernberg percussion have a major impact on the end result. They put that last spice on a dish that I not really understand but still like. The CD has so to speak it´s own intrinsic value through it´s personality and should be something for everyone who likes what is a bit unsual, but still not totally unknown.                                                                                                                                  Lennart Götesson   Dalademokraten 21/1-16
Madeleine Östlund?..Now I know that she is a jazz artist. A very good one…..You see, inside the plastic was gold. The disc is called "Wondrous Roads"  and offers headstrong, creative imaginitive jazz compositions, pendulating from the frail close to the greater sounds.
Sune Johannesson Kristianstadsbladet 16/4 -16
"Vattenvägar", as Östlund titles one of her own songs, an artmusical trifle that also is one of the better on the disc…The narrow specialist will get difficult to place this CD. "Intro" is a little gem that makes me, in the morningwhirl, think it´s a Björk-disc in the cd-player…….John Coltranes hit "Strange Street" from the debutdisc 1957 becomes a hilarious interpretation with Östlund on free singing to Lisa Grotherus bassclarinet and Tjernbergs percussion.                                                                               Rikard Rehnberg Orkesterjournalen nr 2 -16
   She sings melodically but creates also some kind of performance with the words, sometimes to many rhythms and other times in chamber musical stillness.    Bengt Eriksson   Lira nr 1-16
Buy the CD:
Pet Sounds, Skåneg.80 Stockholm                       Söders skivbörs, Rosenlundsg. 12, Stockholm
S:t Pauls Bok och Pappershandel, Sankt Paulsg.24, Stockholm
or directly from me:
mail name and adress to made(at)madeleineostlund.com
and send 18 euro via PAYPAL(made(at)madeleineostlund.com) and I send you a CD